ISFIS and Sitler's LED Supplies, a lighting company out of Washington, IA, have teamed up to bring Iowa school districts LED products at competitive prices. With the need for energy efficient products on the rise, LEDs are the first step in reducing your district's energy usage and costs. With LEDs eligible for PPEL and Sales Tax funding, your school receives the best, most efficient lighting on the market, and 100% of the savings are realized in the General Fund.
---
School Testimonials
"There is no comparison [between old lights and LEDs] - better for kids, staff and the budget!" -Kevin Fiene, Superintendent, Interstate 35 CSD
"[We've seen] $8750 in savings for a 3-month period even though the average temperature was higher which would have raised the electric bill for additional cooling costs!" -Dave Broussard, Director of Information Technology, Grant Wood AEA
"[Working with Sitler's was] easy - we are planning to utilize them for additional projects this coming year." -Lance Ridgely, Superintendent, East Union CSD
"We have had savings up to $650/month since the installation on our electric bill!" -Carmen Benson, Business Manager, Winfield Mt. Union
"The new lighting changed the whole look of our classrooms and gym!" -Karleen Stephens, Superintendent, Diagonal CSD
"We are satisfied [with the LED lighting]. Staff and students have commented that the lighting is better now than it was previously."-Tony Alysworth, Superintendent, Pleasantville CSD
Visit Sitler's LED Supplies to find more testimonials from schools and other businesses who have worked with Sitler's!
---
How LEDs Can Improve Your Schools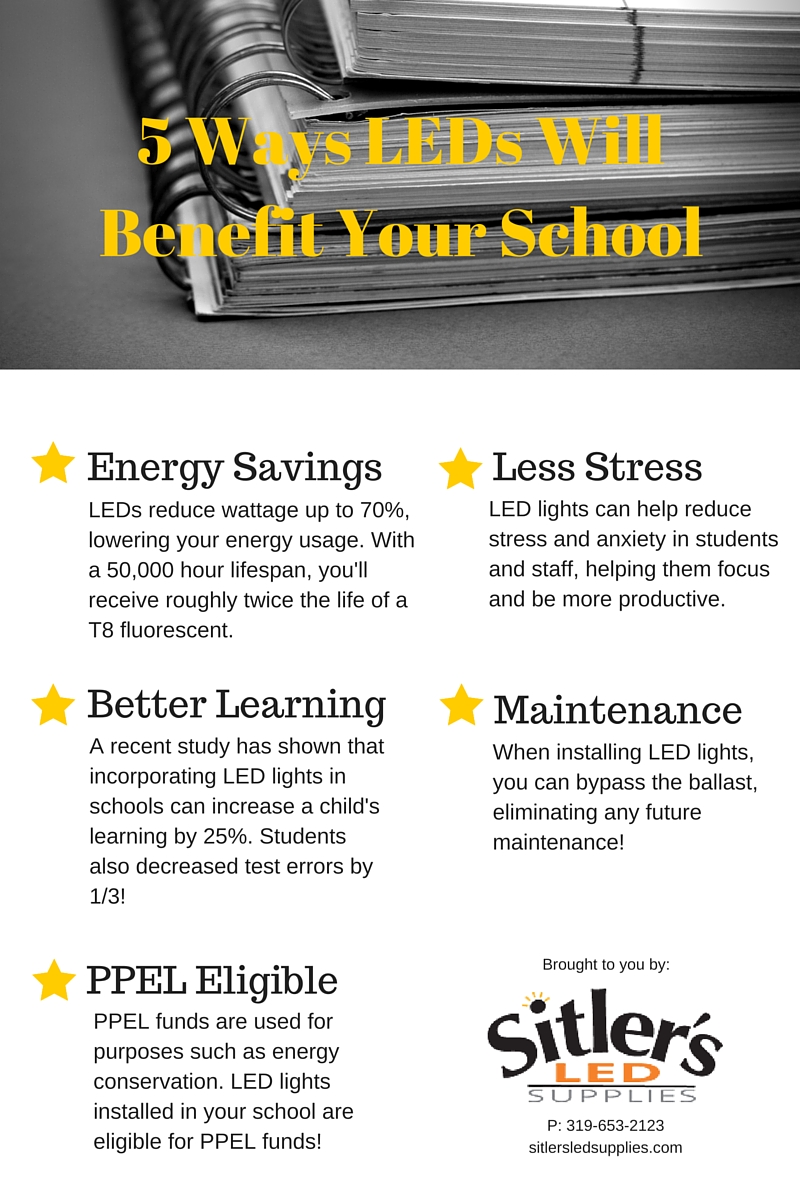 LEDs not only help your budget's bottom line, they also help your students and staff. Recent studies have shown children taught under LED lights increase learning by 25 percent and  reduce their testing errors by a third! The bright lighting also helps teachers and students remain productive and focused throughout the day.
LEDs also positively impact any future solar power projects. While solar power is a great renewable energy resource, the project can be costly. By installing LED lights first, your district reduces its overall energy usage. Reduced energy usage means less solar panels are needed to power the building, lowering the cost of the solar project!
To learn more about how to receive a free lighting quote, contact ISFIS or Sitler's LED Supplies