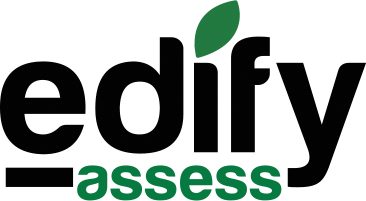 District and Classroom Assessment
EdifyAssess gives districts a centralized, online solution for creating and delivering standards-aligned assessments and reporting outcomes in a meaningful way.
Schedule a Demo
For more information or to schedule an EdifyAssess software demo, contact Susie Olesen.
What is EdifyAssess?
EdifyAssess is a comprehensive cloud-based enterprise platform that can manage all aspects of an organization's assessment program – from assessment item creation through assessment administration to sophisticated data analytics of student responses. Its scalability and security features make it the ideal solution for day-to-day formative classroom assessments as well as for large-scale district-wide testing. EdifyAssess provides a simple and intuitive user interface which teachers and students have come to love. Every day thousands of teachers and students use EdifyAssess to manage, deliver and take assessments utilizing multiple devise types.
Centralized Online Solution
EdifyAssess can be used by teams to collaborate on their work. It equips school systems and educational publishers to efficiently create and manage large-volume item and assessment banks. Its intelligent workflow is designed for collaborative team production of aligned assessments between curriculum developers, psychometricians, teachers, administrators, and assessment coordinators.
Create a comprehensive assessment plan for all stakeholders including students, teachers, principals, and administrators with an easy, online, educator-relevant platform.

Access and use content from pre-made large item banks as well as pre-made assessments.

Author and import district-owned items and tests for immediate use in the classroom or a defined group of students.

Analyze standards-aligned reports with robust, meaningful data that allows teachers to make informed decisions about instruction.
Effective & User Friendly
From item creation to assessment administration, edifyAssess is valid and reliable. To include:
Sophisticated data analytics of student responses

Assessments generated from custom item banks

Test items aligned to district selected standards

Addresses multiple reading levels

Can provide scaffolded entry points from differentiated learners

Targets the appropriate Depths Of Knowledge (DOK) levels
Standards Aligned
EdifyAssess is based on common core state standards alignments.  Districts can request customized state standard sets. Assessment items, reports, and remediation resources are also aligned to the standards that your schools use.  edifyAssess provides tens of thousands of high-quality items stored in district selected assessment banks.  In addition, you can create your own item bank by importing or authoring new items. edifyAssess includes assessment sets and technology enhanced item types.  Our strategic partnership with Key Data Systems provides access to the robust Inspect Item Bank offering an additional 100,000 items!
Flexible Scoring Methods
EdifyAssess supports multiple methods of scoring formative assessments.  Any assessment created using EdifyAssess can be scored using Raw Scores or Scale Scores.  A school or district can configure the customizable performance bands (Below Proficient, Proficient, Advanced, etc.) based on both Raw Scores and Scale Scores.  An assessment in EdifyAssess is scored based on its scoring configuration.  The two scoring methods for an assessment are described as follows:
A raw score is the total number of score points an assessment taker obtains by answering questions correctly on an assessment. For example, if an assessment taker answered 20 out of 50 questions on an assessment correctly, then his or her raw score, in this example, is 20.

Scale score that provides the ability to report scores for all examinees on a consistent scale. The reported scaled scores are obtained by statistically adjusting and converting raw scores onto a common scale to account for differences in difficulty across different forms of assessments administered during the school year.
Technology Enhanced Items
EdifyAssess uses the Amazon CloudFront service to host its online item, assessment, audio, and video content. This provides an easy ability to globally serve assessment content to hundreds of thousands of concurrent users in an extremely scalable manner.
The EdifyAssess platform is hosted on the cloud and delivered in an SAAS model, meaning no locally installed software or download resides on any hardware in our client's infrastructure.  The EdifyAssess team provides implementation services and will ensure the application is accessible and functional throughout the district.  The EdifyAssess architecture is based on the Microsoft .NET framework and Microsoft SQL Server and uses a state of the art cloud hosting infrastructure provided by Amazon. edify uses the Amazon Elastic Cloud infrastructure to host all of its applications.  Amazon Elastic Compute Cloud (Amazon EC2) is a web service that provides resizable compute capacity in the cloud. It is designed to make web-scale computing easier.  Amazon EC2 hosts some of the largest websites including Amazon, Yelp, and Netflix. Some of the larger education clients include Department of Education, Harvard University, and University of California.
EdifyAssess is a product of Silverback Learning Solutions.  Who is Silverback?
Silverback Learning Solutions is a company founded by a former superintendent and a team of lifelong educators.  We have one purpose – to deliver solutions focused on increasing individual student achievement.  "Any solution meant to have meaningful impact on students requires the voice of the educator at its core." – Silverback Founded, Dr. Jim Lewis (current Chairman of the Board).  Meet their team of current & former educators HERE.
Learn more about the ISFIS partnership with Silverback Learning Solutions HERE
Schedule a Demo
For more information or to schedule an EdifyAssess software demo, contact Susie Olesen.
More Information
For even more EdifyAssess information available HERE from Silverback Learning Solutions
Click HERE to download an EdifyAssess brochure.
Download this ISFIS Memo on funding available to pay for school improvement tools. - Updated 2021
Current Customer Login & Resources
Current EdifyAssess users, click HERE to login.
EdifyAssess Quick Reference Guide
EdifyAssess Benchmark Windows and Codes 2020-21
EdifyAssess Benchmark Assessment Schedule 2020-21
Best Practices for Using EdifyAssess